Tories sink even lower on asylum
We are pleased to endorse the brief press release from Stand Up to Racism (see below) about the government's latest attacks on asylum seekers.
The Red Cross, too, has called the government's proposals inhumane, a stark judgement with which we entirely concur. These proposals, if enacted, may constitute illegal discrimination.
We in Jewish Voice for Labour will add our weight to campaigns against these awful and dishonest proposals  becoming law.
The claim that they are designed to give "enhanced status" to people applying from overseas via official channels, completely skates over the cruel reality which is  that successive UK Governments have all but abolished these "official" channels. People resort to dangerous and expensive 'traffickers' because our Governments have abolished the alternatives.
The stated justification that this would deter traffickers would be laughable if the consequences for some of the most desperate people on this earth, fleeing war, torture and oppression, were not so dire.
What is happening is that this government is shamefully whipping up fears based on how scarce our resources are and even that asylum seekers may pose a threat to our "British way of life". As the Guardian editorial, also reposted below, highlights, the system is not collapsing under the weight of demand:
The number of asylum applications in this country last year was well below half of its 2002 peak. Four out of five refugees globally have fled to neighbouring countries; Turkey hosts 3.6 million. For Ms Patel to snipe that EU countries must be "part of the solution" is rich when Germany has a refugee population of around 1.1 million, compared to the UK's 133,000. Greece, France and Spain have also accepted far more asylum seekers in recent years.
All asylum seekers' claims must be heard, based on merit and not on how they got here. All asylum claims must be heard promptly and fairly, with people's well-being and dignity as our main priority.  People who get into small boats on treacherous and busy seas, or risk discovery or even suffocation in lorries, have only done so because they are desperate to escape a terrible situation.
PS, 26 March: We would also like to add Dominic Casciani's helpful article on the BBC website, Can Priti Patel's asylum plan work? and Free Movement's What is actually going on at the Home Office? A guide for journalists
---
PRESS RELEASE: Anti racists oppose scapegoating of Priti Patel's new refugee clampdown
for immediate release
Wednesday 24 March
Anti racists oppose scapegoating of Priti Patel's new refugee clampdown
Priti Patel's draconian overhaul of the asylum system which threatens to remove refugees who enter the UK supposedly illegally is a breach of international law. UNHCR whose responsibility is to uphold the status of refugees has clearly stated "Anyone seeking asylum should be able to claim in their intended destination or another safe country "
Weyman Bennett, co convenor of Stand Up To Racism stated
"This is Priti Patel yet again ramping up hostility towards asylum seekers. Following the harassment of refugees in Calais and Greece the government now wants to create further obstacles to seeking asylum in Britain. Refugees have already lost virtually everything and Patel is  now adding to their misery."
SUTR's other co convenor Sabby Dhalu emphasised
"Britain must uphold its international obligations. People must have the right to seek asylum here. The decline in covid cases has slowed down since the lockdown was eased on 8 March. There seems to be a pattern, whenever there are concerns about covid cases increasing, the government stirs up racism towards refugees as a distraction." 
Weyman Bennett added
"This measure must be strongly opposed by all who value human rights and seek an end to all forms of racial discrimination internationally".
For more information, interviews and further quotes email [email protected]
---
Editorial, 24th March 2021
The backlog in cases is caused by Home Office failures, not a surge in cases. Scapegoating irregular arrivals won't help
Over a year into the pandemic, you might feel the government had enough on its plate. Yet it is cynically manufacturing another crisis, at the expense of vulnerable people who have arrived here seeking refuge. Its asylum proposals, published on Wednesday, will only stoke the populist anger which Nigel Farage and others have sought to create by seizing on images of boats of young men approaching the white cliffs of Dover.
Priti Patel's claim that the system is "collapsing" under the burden of demand is nonsensical. The number of asylum applications in this country last year was well below half of its 2002 peak. Four out of five refugees globally have fled to neighbouring countries; Turkey hosts 3.6 million. For Ms Patel to snipe that EU countries must be "part of the solution" is rich when Germany has a refugee population of around 1.1 million, compared to the UK's 133,000. Greece, France and Spain have also accepted far more asylum seekers in recent years.
Though three-quarters of applicants are still awaiting an initial decision after a year, the rising backlog is not caused by a surge in applications, but by the failure to deal with them in a timely manner. Immigration appeals and judicial reviews in the UK have fallen over the last five years, and two out of three of those seeking asylum are found to have valid claims. If the home secretary is truly concerned about rising costs, she should get to grips with her own department. Instead, she has scapegoated irregular arrivals, presenting those who risk their lives to get here as greedy, queue-jumping cheats profiting at the expense of women and children. Demonising them is hardly new, but there is something especially distasteful about doing it on the pretext of concern for other asylum seekers.
The promise is that those with valid claims will be able to come here through a resettlement process. A fair and well-planned scheme, which allows refugees to prepare for a new home, to travel safely, and receive the support they need to begin their new lives, is entirely desirable. But there is no indication of how a scheme might work, nor how many places are available. The need for consultation does not explain why a previous target of resettling 5,000 people a year has been dropped. And there can be no confidence in the good faith of a government which abandoned the Dubs scheme for unaccompanied child refugees after accepting less than 500 of the 3,000 initially envisaged.
Not even the best scheme would be an excuse for inhumanity to those desperate enough to seek other routes. People with a valid claim have no legal obligation to register it in the first place they reach, and may have good reason to want to live elsewhere, as the UN high commissioner for refugees has pointed out. To recognise their need for asylum, but then leave them in limbo for ever, subject to repeated checks and the permanent threat of removal, would not only be cruel. It would increase the burden on officials already unable to cope, and likely lead to legal challenges, compounding the existing workload.
Overall, these proposals look unworkable. No third countries have agreed to accept rejected asylum seekers. Brexit ended the agreement which allowed the UK to return those who travelled here via the EU to the bloc; given current relations, it is hard to see that changing. This plan looks like a more sophisticated, but not much more sensible, version of the Home Office's reported suggestion to turn back boats with water cannons: a cheap gimmick which would look ridiculous, were it not so callous.
---

Dominic Casciani
Home and legal correspondent
@BBCDomCon Twitter
24th March 2021
There is a warning from history for Home Secretary Priti Patel – and it comes from what happened to the Labour Party when it too faced what it was describing as a crisis in the asylum system.
Back in 2003, Tony Blair – the then Labour Prime Minister – was under such sustained pressure over asylum seekers entering the country that he made a PR-savvy pledge to halve the number entering Britain before the year was out.
He hit the target – but that year also poisoned the public mood against the government.
No matter what the government did or said, many people concluded ministers had no control of immigration.
All these years on, Home Secretary Priti Patel is telling us that the system is still broken because the numbers are unsustainable.
What are the asylum numbers?
In the context of 20 years of immigration crises, the total number of asylum seekers arriving in the UK is actually very low.
Last year, almost 30,000 people sought asylum here – and more than 8,000 of them crossed the English Channel in small boats, with the help of people smugglers.
That's a third of the all-time record set in 2002 when the issue gripped the nation. And the UK's figures are nowhere near Germany's, which admitted more than one million in just a year during the Syria crisis.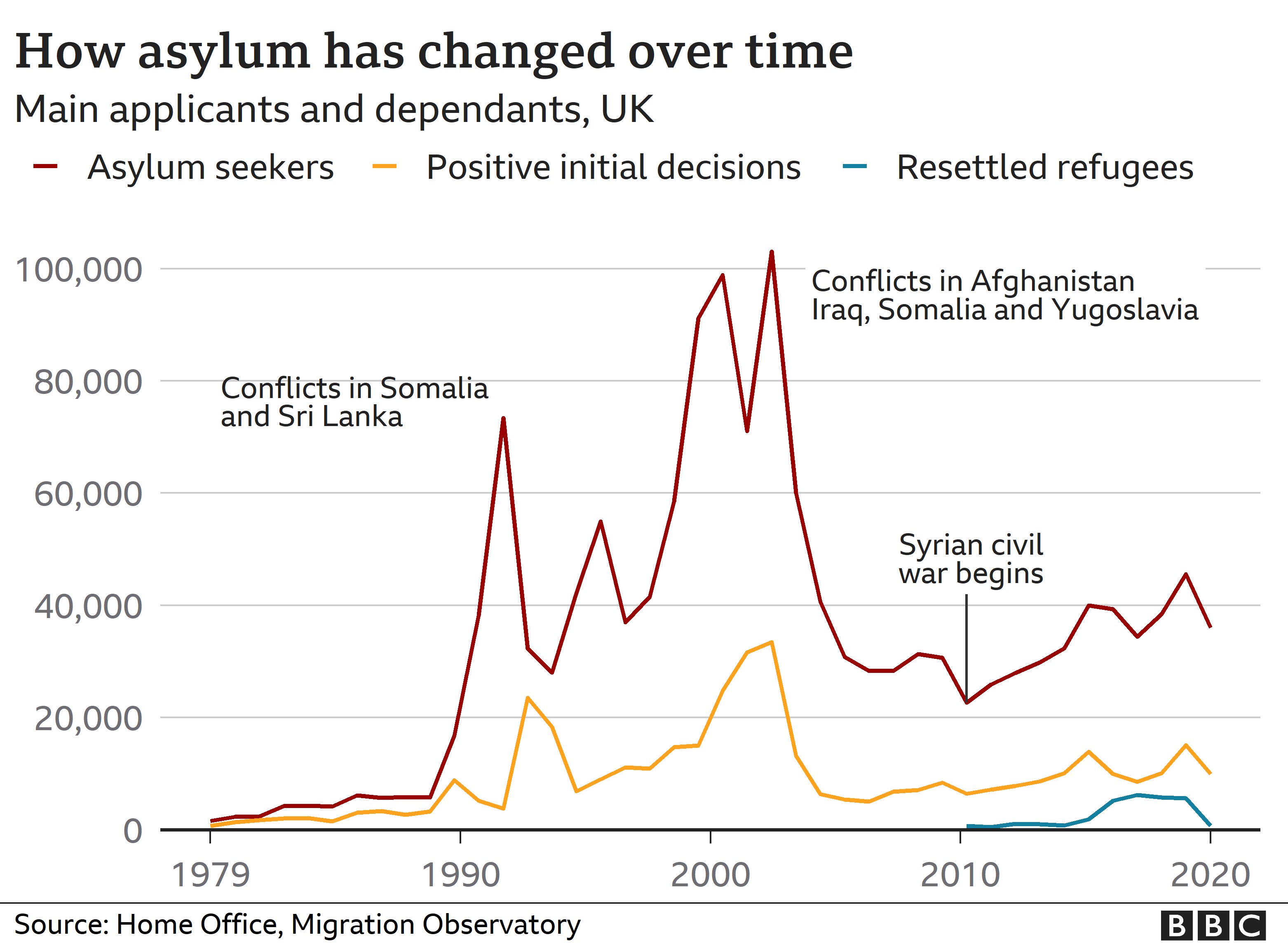 To put all of this into context, earlier this week there were 183 cross-Channel migrants into Kent on one day. To reach the levels seen in the UK at the start of the century, dinghies would have to bring 300 a day, every day, for a year.
While the numbers of applicants have indeed recently begun to rise again, so has the backlog of unresolved cases.
In 2010, almost 12,000 asylum seekers were waiting to hear if they could stay in the UK. Just before the pandemic hit, that number had reached almost 44,000.
Cases are taking longer to resolve and that, in turn, makes the system more expensive, as the Home Office has to house and feed people who are not allowed to work while they wait for a decision on their futures.
And so these statistics lead critics to say that the real problem remains fundamental mismanagement of asylum over decades.
Can Priti Patel's plan make a difference?
Let's take the core proposal to treat some asylum seekers differently to break the power of criminal gangs.
Anyone coming via proposed new official routes, such as the recent Syrian resettlement scheme taking people from camps, would be fast-tracked into a new and permanent life in the UK.
Just putting to one side the fact that we don't know what these officials routes are, anyone who doesn't use them may be relying on people smugglers.
The UK will restrict that group of people's rights to live a normal life and try to send them back to other safe countries they have passed through along the way.
Those it can't eject will never get permanent residence and will face repeated attempts to remove them in the years that follow.
The aim is to undercut the awful criminal economy of smugglers who profit from misery as they pack people onto boats.
Is that legally workable?
Many legal experts predict the plan would breach the international law that the UK helped devise – that states we should treat all asylum seekers equally and fairly.
But officials think that's not quite the point and there is room to create sanctions to break the link with criminal gangs.
Under Article 31 of the 1951 Refugee Convention, countries can't penalise refugees for illegally entering a nation, providing they come "directly" to its shores, or have a good explanation for how they have turned up via some more complicated route.
But while an asylum seeker is not obliged to seek sanctuary in the first safe country they reach, nor do they have an unfettered right to shop around.
The Home Office seems confident that provides the legal room for it to take steps against asylum seekers who have paid smugglers, in the hope that it will deter others from doing the same.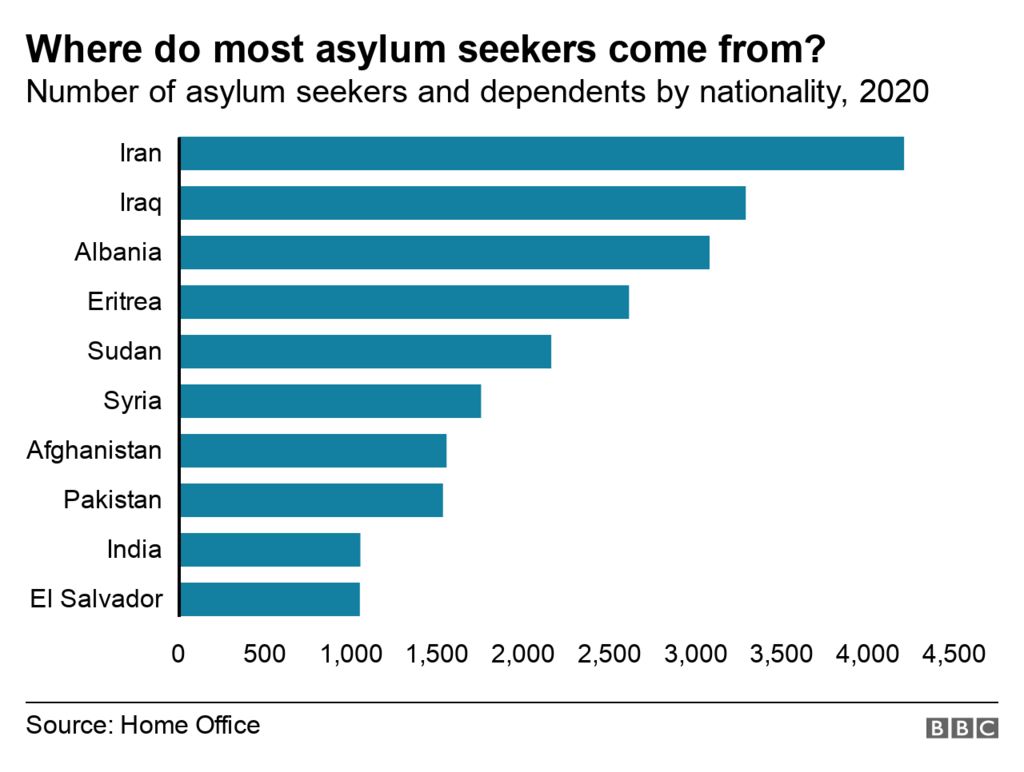 Are there other questions with the plan?
Just supposing all of this becomes law, there is an elephant trumpeting away in the Home Office's shiny glass atrium: where is the UK actually going to send anyone whom it wants to get rid of?
The number of people being removed from the UK – be they failed asylum seekers or, separately, foreign national criminals, has been falling over a decade.
And the UK has not been able to send a single failed asylum seeker to its immediate neighbours since the end of Brexit, when it left the EU-wide system governing such transfers.
There is no new legal agreement in place – and there is no way that the UK can force France, Italy, Greece or wherever else to receive people without permission.
The Home Office hopes to strike new deals – but until it does so there is the possibility, say some experts, that the plans will just make matters worse.
If attempts to discourage people from using smugglers fail, people will still be turning up, but now without the right to settle permanently and put down roots.
Denied benefits or the right to work under the planned restrictions, they could end up destitute.
And if they can't be sent anywhere else, they may remain on the streets, in limbo.
Just like Tony Blair's government, the challenge for this Home Secretary is to have enough time to prove that the system she says is broken is on its way to being mended.