Jews of Color – the growing row in the United States
George Floyd's murder has caused waves of horror and indignation worldwide and Jewish groups everywhere have united in condemning the brutality.
But they are not united in practice about including Jews of colour, many of whom say an ongoing and unmistakable exclusion from the organised American Jewish community is at the heart of their experience.
So the recent publication of an academic study "How Many Jews of Color Are There?" which claims there are fewer than half as many Jews of color in the States than currently believed, has caused great upset and outrage. It's partly an argument about methodology, but mainly about recognition.
We repost three articles on this topic: Marc Dollinger and Mairav Zonszein, focusing on the implications of the row over numbers; and Black, Jewish, queer-identifying Jordan Daniels on what it would mean for Jews, all Jews, to seriously join the fight against racism.
As Marc Dollinger puts it: "The existence of even a single black Jew, for example, challenges some of our most basic assumptions of post-war American Jewish life. How do Jews who are also black fit into our narrative of black-Jewish relations?"
Marc L. Dollinger, Jewish Telegraphic Agency, 20th May 2020
(The author is the Richard and Rhoda Goldman Chair in Jewish Studies and Social Responsibility at San Francisco State University.)
SAN RAFAEL, Calif. (JTA) — Two summers ago, I published an academic book about blacks and Jews that did not include a single black Jew in the narrative. Ilana Kaufman, founder and president of the Jews of Color Field Building Initiative, encouraged me to open my eyes to my own implicit assumptions about Jews, race, power and privilege.
Specifically, she asked me to walk through each chapter of the book and rethink its thesis through the eyes of a black Jew. Instead of viewing history through the lens of defining "Americanism" (i.e. what makes us Jewish vs. what makes us American), she suggested viewing those same historical events through a racial lens.
When I took her advice, the very foundations of my argument gave way to a much more complex, nuanced and accurate analysis of American Jews and race relations.
Fortunately, I was able to add an epilogue that acknowledged the absence of black Jews in my book and the need for new academic work, and have joined Kaufman in a series of talks that engage with these questions. But my colleagues in the field and I have a lot of work ahead of us if we hope to accurately tell the story of diverse Jews.
In an article recently excerpted from a forthcoming chapter in the next American Jewish Year Book, scholars Ira Sheskin and Arnold Dashefsky took issue with a May 2019 demographic report that concluded "at least 12-15%" of the nation's Jews identify as Jews of color — "broadly, anyone who identified as non-white." Instead, Sheskin and Dashefsky argue, the number stands closer to 6%.
Reading the article, I winced, reflecting on my own continual learning as a scholar of Jews and race. In both content and context, the article typified the very problems it seeks to redress: the erasure of Jews of color in American Jewish life.
When Kaufman challenged my racial assumptions about Jews, I also initially responded with data rather than empathy and deep understanding. Black Jews represented a microscopic number of Jews in the civil rights era, I reasoned. Therefore, minimizing them, making them "invisible" to play on the title of Ralph Ellison's famed 1952 novel, made perfect academic sense.
Sheskin and Dashefsky's analysis cuts the number of Jews of color in half, taking the 6% figure from the 2013 Pew "A Portrait of Jewish Americans" study and citing local studies as supporting evidence.
In doing so, they ignore the 11.2% finding of the American Jewish Population Project.
I am not surprised to read that traditional Jewish community surveys undercount, or worse did not even count, diverse Jews.
Demographic surveys value or de-value different forms of Jewish expression based upon the sorts of questions they ask. As a life-long Californian, I have long criticized surveys that ignore regionalism as a factor in Jewish identity. Questions of Jewish identity prove so complex, especially around racial diversity. Our approaches to social science need to keep up with a dynamic Jewish population.
This is precisely why we need new approaches to Jewish social science. We need new and better questions. We need the very sort of work that Stanford University's Ari Kelman and his team undertook as they sought a more accurate count of Jews of color last year, which Kelman further elaborated upon in response to Sheskin and Dashefsky.
While Kelman has already addressed the methodological issues at stake, I am interested in the social implications of counting and miscounting Jews of color. Numbers are more than just a way to count. They are also a way to express our values or devalue others. Through flawed (or missing) questions, we dehumanize Jews of color.
The existence of even a single black Jew, for example, challenges some of our most basic assumptions of postwar American Jewish life. How do Jews who are also black fit into our narrative of black-Jewish relations?
To center Jews of color in history demands that scholars ask important new questions: What if the Jewish history of the civil rights movement reflected white racial privilege more than a manifestation of tikkun olam? How must we rewrite our entire understanding of the civil rights era, and beyond, now that we recognize the existence and experiences of Jews of color?
The decision to publish this piece in eJewishPhilanthropy also matters. As an online source dedicated to "highlighting the latest happenings in the world of Jewish philanthropy," EJewishphilanthropy attracts readers interested in learning the best ways to allocate precious communal resources.
When two senior Jewish studies scholars dismiss those who claim we need to do a better job of counting diverse Jews and minimize their numbers, it can send a message: Treat philanthropy requests from Jews of color with greater skepticism — they are fewer than you imagined.
The result? Jews of color, yet again, are forced to prove they are not lying about their numbers, that they are vital and that they deserve philanthropic support. To watch all of this is to bear witness to a hierarchy of charitable giving based on race.
This is much less a critique of Sheskin and Dashefsky than it is a call for a much broader and deeper awareness of demography's racial implications. While these two scholars base their analysis on the field's most reliable surveys, statistical analysis does not exist in a social vacuum. Who we count, how we count and where we report our counting matters in an ever-more diverse American Jewish community.
Those of us in senior scholar positions, and especially those of us who enjoy the privilege of our white Ashkenazi roots, need to pause before entering this fray.
We need to open ourselves up to the possibility that our otherwise solid academic work plays out differently in the real world than we initially imagined. When we write about numbers, we are writing about people. And when our writing causes even unintended harm, we need to rethink our assumptions.
JTA EDITOR'S NOTE: This piece has been revised in multiple sections at the request of the author.
---
Mairav Zonszein, Jewish Currents, 26th May 2020
NEARLY 200 AMERICAN JEWISH ORGANIZATIONS, including day schools, federations, and synagogues, have signed on to a letter expressing support for Jews of color, in response to an article published earlier this month by two veteran Jewish scholars that questions the latest estimates of how many nonwhite Jews there are in the United States. The "Jews of Color Count" letter, organized by four Jewish women of color who hold leadership positions at Jewish social justice organizations, criticizes the article for placing "a stronger emphasis on numerical calculations than on communal values" and using "cherry-picked data to build a case for why supporting Jews of Color depends upon a numeric threshold."
In their article, "How Many Jews of Color Are There?" published in eJewish Philanthropy, a website that caters to Jewish professionals (and republished in The Forward with the clicky headline addition, "Fewer than you think"), Ira M. Sheskin and Arnold Dashefsky dispute recent estimates, widely accepted by the Reform movement, that Jews of color represent at least 12–15% of the American Jewish population, arguing that the percentage "is almost certainly closer to 6 percent." The article is drawing heightened attention because it is based on a chapter on Jews of color that will be published next month in the American Jewish Year Book (AJYB), a canonical record of major topics of concern to North American Jewish society—including demography, Jewish institutions, and media—which has been published annually since 1899. Sheskin and Dashefsky are also the co-editors of the AJYB, a post they assumed in 2012.
April Baskin—a diversity, equity, and inclusion consultant and racial justice director of the Jews of Color Roundtable—told me that the focus on numbers carries a particular sting, as often the first questions Jews of color face when entering new Jewish spaces are "Are you Jewish?" and "How many of you are there?" In addition to the article conjuring a familiar feeling of objectification and the need to justify one's existence, Baskin says it undermines the practical inroads Jews of color have been making in the organized Jewish world. "When I read this article, it was equivalent to someone lighting a match in the middle of a field of high grass," she said. "Our funding and fundamental belonging was put in jeopardy."
The Union of Reform Judaism (URJ), which approved a resolution last December to support the development of proposals for reparations for American slavery, also took issue with the article. Its president, Rick Jacobs, and Chris Harrison, an editor of a URJ diversity and inclusion initiative, condemned Sheskin and Dashefsky in a scathing piece in eJewish Philanthropy entitled "The Reform Jewish Movement Stands with Jews of Color – Period." "[W]e will not tolerate white intellectualism intended to diminish research conducted by and about Jews of Color," they wrote. Even eJewish Philanthropy's editor Dan Brown felt compelled to issue an apology "to anyone who was hurt by the essay's publication."
Sheskin, a demographer of the Jewish community who was involved in the 1990 and 2000–2001 National Jewish Population Surveys, told me, "I don't think I have anything to apologize for—we followed the facts," adding that he and Dashefsky decided to write a chapter on Jews of color "with the hopes that bringing attention to it would help the people who want to make certain that Jews of color feel welcome in the community." Sheskin—who noted that he has two grandchildren who are Jews of color—insisted that the 12–15% estimate is way too high.
This higher figure is based on a report published last year by researchers at Stanford and the University of San Francisco analyzing 25 different population studies of American Jews from various years that found that Jews of color were being undercounted, primarily due to inconsistencies in how questions of race and ethnicity were asked, if they were asked at all. The report, "Counting Inconsistencies," was commissioned by the Jews of Color Field Building Initiative—"a national effort focused on building and advancing the professional, organizational and communal field for Jews of Color"—to try and make up for the lack of reliable data. Sheskin and Dashefsky's challenge to this report is based not on new findings, but rather on previous polls—primarily the 2013 Pew survey, which put the percentage of Jews of color at 6%. Sheskin said the Pew study is "the best study out there, hands down" and pointed out that no one argued with the survey's findings when they were published in 2013. He said that this 6% figure may have increased one or two percentage points since 2013, but that any further increase would be unlikely. "If the 15% is correct, then one out of six Jews in this country is a Jew of color. That's a million Jews. My experience is not that," he said.
But as Baskin and others note, while it is clear the Jewish community needs more research to better understand its racial, ethnic, and cultural diversity, the article leaves out key data from a 2019 Brandeis study, the American Jewish Population Project, which put the percentage of Jews of color—defined as "Black, Hispanic, or Other non-Hispanic"—at 11.3%. As Ilana Kaufman, who directs the Jews of Color Field Building Initiative, told me: "While the crux of the authors' argument was about methodology, the authors didn't tightly focus their piece on methodology, nor focus their criticism at the researchers whose work they criticize"—a choice that Kaufman said shifted the focus from the problem of how to quantify Jews of color to the operational implications that might result from lower numbers.
Sheskin told me that he agreed with criticism that "questions have not been asked in a consistent manner where they have been asked," but took umbrage at the implication that he is not committed to evaluating racial identity in his research, nor aware of its importance. He explained that the failure to ask about race and ethnicity in local surveys he has conducted—he's done 53 such surveys, by his own count—was not ultimately his decision, stressing that he does not have the final say on what questions get asked, but that commissioning bodies often help set the agenda, and that each survey has competing question priorities, framed by local contexts and constrained by a 20-minute time frame. He provided the example of a 2014 population study of the Miami Jewish community, which was commissioned by the Greater Miami Jewish Federation. When he consulted with community leaders involved in preparing the survey about whether to include a question on race—which he recommended—they declined. "They said, 'Nah, we don't need race, we don't have any black Jews here.'" (A question about Hispanic identity was included.)
Ironically, this admission about the fallibility of past surveys seems to echo criticism leveled at Sheskin and Dashefsky in eJewish Philanthropy by Ari Kelman, a professor of education and Jewish studies at Stanford and a co-author of the "Counting Inconsistencies" report. Kelman lamented the fact that the researchers present the 2013 Pew number as straightforward despite the ongoing inconsistencies in the available research. Kelman notes that "only 41% of Jewish community studies conducted since 2000 even included any questions about race and ethnicity in the first place" and stresses that those who ask the questions have "an inordinate power to include and exclude populations not only on the basis of sampling approaches but on the basis of questions they ask"—language that calls to mind Sheskin's description of the Miami federation survey.  "According to Pew, Orthodox Jews are 10% of the population. You would never have anyone say 10% of Orthodox Jews is a small minority that doesn't count. So it's not ultimately about the numbers. It's a matter of what the entrenched conceptions, and the biases of those conceptions, lead us to ask," Kelman told me.
A new Pew study on the Jewish community, the first since 2013, is due out later this year, and will almost certainly affect and inform this debate. When asked why they didn't wait for these new results to publish their chapter on Jews of color, Sheskin told me, "You go with the best number available when you write," adding that he and Dashefsky wanted to ensure that the topic was adequately covered in the AJYB. "We were anxious to support Jews of color, as we both feel strongly about the issue."
This controversy over flawed and inconclusive surveys—and disputed numbers—speaks to the ongoing and unmistakable exclusion from the organized American Jewish community that many Jews of color say is at the heart of their experience. "JoC-led and -focused organizations have been historically underfunded, and JoC leaders are not around most of the decision-making tables that help shape the communal approach to funding," Kaufman says. In the last two years, the Jews of Color Field Building Initiative has created its own parallel track for funding, disbursing more than $500,000 in grants to create new spaces led by and focused on Jews of color, including Ammud: JoC Torah Academy, EDOT Midwest Regional Jewish Diversity Collaborative, the Jewish Multiracial Network, Dimensions, and Jews in All Hues.
These dynamics around community funding priorities have been exacerbated by the coronavirus crisis, which is disproportionately impacting people of color, and has led to layoffs and budget cuts across the Jewish communal ecosystem. At the end of March, the Jewish Community Federation of San Francisco (JCFSF) suspended new grant rounds as a result of the financial constraints of the pandemic and the need to prioritize those most acutely impacted. One of these suspended grants was a first-ever proposal of up to $25,000 for "Organizational Change for Inclusion of Jews of Color" that would fund internal organizational capacity work, including new approaches, policies, and trainings aimed at inclusivity. This followed a community study that the San Francisco federation conducted in 2018, which found that 25% of Bay Area Jewish households include a respondent or spouse who identifies as nonwhite.
"When Covid hit, we realized pretty clearly that organizations were in crisis mode, and the idea of developing plans for new programs was just not realistic," said Roxanne Cohen, managing director of community impact at the JCFSF. "We really see the importance of JoC organizational change and hope to bring back these various grant opportunities." Despite the pause in new grants, the federation has recently reopened a short-term grant opportunity for summer teen programs. They have also approved $13 million in grants as part of an emergency Covid-19 response to meet the needs of organizations and facilities whose revenue has been most acutely impacted, in order to "stabilize the Jewish ecosystem and maintain access to Jewish life," as Cohen explained. But none of these grants have been specifically earmarked for Jews of color. "It could be that they fall into those categories and it could be that they fall into the cracks—there is more work to be done," Cohen said.
When asked whether the JCFSF has Jews of color on staff, to match the diversity of its constituency, Kerry Philp, senior director of strategic marketing and communications told me, "I believe we do, and we had embarked upon looking across the organization at our policies, our values, our hiring practices when the pandemic hit." Philp said the federation has signed on to the Jews of Color Count letter and that they, too, were troubled by Sheskin and Dashefsky's article, but that they are grateful that it's opening up the dialogue. "This crisis is an opportunity for us to do things better. I hope this is an opportunity for us to do a reckoning," she said.
But with the exigencies of the pandemic taking precedence, it looks like efforts aimed at fundamentally restructuring Jewish communal life as it regards Jews of color are being put on hold. Baskin noted that in moments of crisis, such as when there are spikes in antisemitic incidents, the Jewish community tends to "circle their wagons," which for most organizations means "protecting white Ashkenazi Jews in their resource allocation." "The fear of Covid has led people to revert back to their factory settings," she said.
A quote by Ari Kelman was added post-publication, when he was reached for comment.
Mairav Zonszein is an Israeli-American journalist who covers politics in Israel, Palestine and the US, civil rights, antisemitism and the media. She has written for The Columbia Journalism Review, The Washington Post, and The Intercept, among others, and is a longtime contributor to +972 Magazine.
---
Jordan Daniels, Jewish Telegraphic Agency, 5th June 2020
Opinon
LONG BEACH, Calif. (JTA) — Over the last 10 days, when the country and world have experienced mass protests for racial justice, I've seen many of my friends work through how they can best be allies for black Americans.
I appreciate that consideration, and I've long asked myself that question, too. How can I, as a black-and-Jewish-and-queer-identifying person, stand up with those who are calling for action?
But at this moment, I can see that being an ally is no longer enough to support black people. We need accomplices.
It's great that white Jews are taking to the streets and marching alongside the black community. But lasting change will require much more than that.
In the context of social justice work, an ally stands in support while an accomplice helps change the bigger picture. Allyship is necessary, but it is only the first step in achieving justice for all people and can easily become trite. We saw this clearly this week through #BlackoutTuesday, which began as an initiative for the music industry that quickly became conflated with the #BlackLivesMatter movement. The co-opting of this moment culminated in the literal blackout of vital information passed through hashtags and beyond. It was clear that many people demonstrated their enthusiasm to join a cause without interrogating the possible harm.
To be an accomplice means that we have to practice tikkun olam (repairing the world) without thinking of the optics for ourselves. It means that we have to do more than call or stand up to racism. We have to practice anti-racism ourselves. Rabbi Sandra Lawson said it best: being anti-racist requires "working everyday either emotionally or physically to dismantle the racism that we all have been taught since day one in the United States."
In the introduction of his book "How to Be an Antiracist," Ibram X. Kendi writes, "I've come to see that the movement from racist to antiracist is always ongoing … and beyond that it means standing ready to fight at racism's intersections with other bigotries."
Anti-racism calls on us to interrogate how we may perpetuate racism in ourselves, and how we actively work to dismantle it every day. Let me be clear, I do mean we.
I am black and I am Jewish, and I am light skinned. I have siblings and an abundance of family — biological and chosen — that are darker skinned. It is my duty to wield my privilege however I can to keep them safe from the systems designed to harm them, and the systems that I have upheld. As pointed out earlier this week, we must all acknowledge our role. I, too, have work to do.
If you're ready and willing to be an accomplice in this work, I implore you to genuinely look inward toward what you may uphold so that you can authentically dismantle it in yourself.
This can look like purchasing resources such as Kendi's book and hosting a book club about it with your friends on Zoom. It may look like asking your organization to invest in anti-racism training for all staff, preferably led by black facilitators. It could look like supporting bailout funds or donating to organizations focused on supporting black healing, because we don't always need to invest in the exploitation black pain. It very well may look like urging your city to defund its police program — or your synagogue and JCC to stop using police officers for synagogue security —  and calling for reallocation of resources to community-based services such as education, housing and programming.
I understand the relationship between the Jewish community and the police is complicated, especially given the dramatic rise of anti-Semitism these past few years. I also understand the need to dismantle the policing system that was designed to harm and hunt the black community. There are no easy answers, but I do know that ignoring police brutality is simply not an option.
There are several possible ways to become an accomplice, many of them not requiring you to leave your house. The only requirement they have is that you move into action to stand up and stand with the black community. As someone who holds tension between these two identities, I understand hesitations to move with urgency. I also can tell you that as a Jew of color, we need more accomplices in our community, which unfortunately still does not always fully accept us or listen to our needs.
Even as Jews of color are making our voices heard in the Jewish communal field, we're still being questioned on how many of us there are, and facing backlash for speaking up about racism and inclusion. We experience racism from all ends of our identities.
But we each have an opportunity to stop being complicit.
For the last 10 days, I've seen a stream of statements from Jewish organizations, friends and celebrities sharing their outrage. This is a solid step toward allyship. But the work will not end with the news cycle, the work will not end with the protests and the work will not end with the statements. If tikkun olam and pursuing justice are truly two of our leading values as Jewish people, then the work can't stop there for our community, either.
We need you to fight for true equality with us — for the long haul, not just the photo op.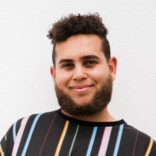 Jordan Daniels
is a Black/Jewish/Queer writer for fashion, liberation and LGBTQ+ experiences. His work has appeared in Narratively, EJewishPhilanthropy, Wear Your Voice Magazine, and more.