EHRC Commissioner Failed to Declare Tory fundraising
JVL Introduction
Dominic Cummings driving to "test his eyesight" and being allowed to get away with it symbolises the corrosion of principle and the collapse of trust under the current administration.
But it has been building for  a long time.
We rely on institutions like the BBC and the EHRC being genuinely independent, having the strength and integrity to resist the political pressures to which they are inevitably subjected.
Here Newsweek reveals that the independence of the EHRC, which says it takes its impartiality "very seriously", has been compromised
One of its commissioners, Pavita Cooper, is revealed as having made a donations to the Tory party which were not declared, in breach of its own rules.
Do her political leanings have any connexion with the fact that the EHRC decided "it would not be proportionate to initiate our own investigation" into allegations of Islamophobia in the Conservative Party?
Will Cooper resign?  Will she be sacked?
Don't hold your breath. Dominic Cummings has blazed the way.
This article was originally published by Newsweek on Sat 27 Jun 2020. Read the original here.
Equalities and Human Rights Commissioner Failed to Declare Tory fundraising
A commissioner at the U.K. equalities watchdog, which prides itself on impartiality, failed to declare her donations and fundraising activities for the Conservative Party, Newsweek International can reveal.
Pavita Cooper, who is a commissioner at the Equalities and Human Rights Commission (EHRC) made donations totaling £7,000 to a Conservative MP and to the Conservative Party itself, according to the Electoral Commission's website.
The EHRC is an independent body responsible for the promotion and enforcement of equality and non-discrimination laws in England. When its impartiality has been questioned in the past, it stated that it was an "independent regulator" that took its impartiality "very seriously."
The EHRC is currently investigating the opposition Labour Party for alleged antisemitism but has said that "it would not be proportionate to initiate our own investigation" into the Conservative Party after a number of allegations of Islamophobia from within the party were made.
On October 22, 2013, according to publicly available records on the Electoral Commission's website, Cooper made a donation of £3,500 to Mary MacLeod who was the Conservative MP for the Brentford and Isleworth constituency from 2010 to 2015.
On November 13, Cooper also donated £3,500 to the Conservative and Unionist Party, the Electoral Commission says.
Pavita Cooper and her husband, Stephen, held a fundraising dinner for Mary McLeod, at which the guest of honor was the former Conservative Chancellor George Osborne on October 22 2013.
A link to the event on Brentford and Isleworth Conservatives website states that tickets were available for £100 and that it was hosted by Steve and Pavita Cooper.
It was attended by then Chancellor George Osborne.
Upon her appointment by the government, an announcement by the Cabinet Office stated that Ms. Cooper "did not declare any political activity".
Although Ms. Cooper's campaigning and fundraising activities occurred before she became a Commissioner for the EHRC, under the Cabinet Office Code of Governance for Public Appointments, her fundraising and support for the Conservative Party should have been declared.
In the same announcement, the Cabinet Office states: "These appointments are made on merit and political activity played no part in the decision process.
"However, in accordance with the code, there is a requirement for appointees' political activity (if any declared) to be made public.
"Alasdair Henderson's declaration of political activity identifies that he stood for election for the Whig party in the past 5 years. Suzanne Baxter, Pavita Cooper, Helen Mahy and Mark McLane did not declare any political activity."
The EHRC's own governance manual states that "members must register their own or close family members' or associates' relevant non-pecuniary interests."
It says: "These might include membership or active involvement with any, public bodies, political parties, campaigning groups, professional and trade bodies or charities and other voluntary and community sector bodies, which, even if not remunerated, may have a direct bearing on the business of the Commission, or which a fair-minded person might reasonably think could influence a members' judgment."
Ms. Cooper told Newsweek that she only ever made one donation to a Conservative MP, who was a personal friend.
She said: "A personal donation was made to a close friend who was running as a candidate in the election in 2013. I am not, and never have been a member of any political party or made a donation to a party. I will be updating my declaration of interest."
The EHRC meanwhile insisted it remains an impartial body.
It told Newsweek: "A donation was made at an event in 2013 to support a personal friend who was running as an MP. Pavita Cooper has not made a donation to any political party and is not a member of any party.
"We are an independent regulator and take our impartiality very seriously. We have robust procedures and policies in place to manage conflicts of interests or perceived conflicts of interests."
The Electoral Commission's website however lists Ms Cooper as making a total value of £7,000 in donations, one of which was recorded as being to the Conservative Party.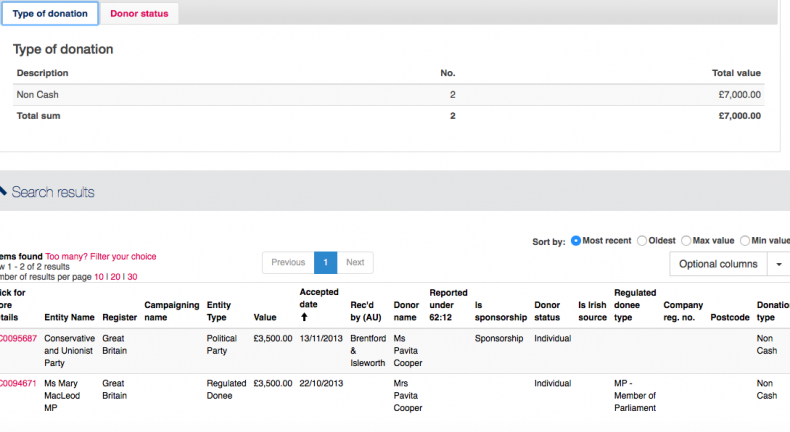 George Osborne, the Cabinet Office, Brentford and Isleworth Conservatives and Steve Cooper have all been contacted for comment.
Correction 06/25/20 10:05 EDT: The second donation by Ms. Cooper was made on November 13, not on October 22, and we have corrected the date. We apologize for the error.